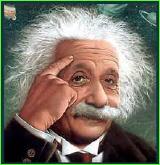 "Όλη η επιστήμη είναι απλώς μια βελτίωση της καθημερινής σκέψης!"


Άλμπερτ Αϊνστάιν, το 1936, στο άρθρο του «Η Φυσική και Πραγματικότητα"
SCIENCES AND OTHER FACTS
ELLINHKA
Καλώς ήρθατε
Στις σελίδες που ακολουθούν, σας θέλω να φέρω κοντά προς τα άλλα ενδιαφέροντα από τον κόσμο της επιστήμης! Η Προσπάθειά μου εδώ, δίνεται στον στόχο, να διευρύνει τους ορίζοντες σας και ακόμη να εξηγήσει πολύπλοκα ζητήματα κατανοητό.

English
Welcome
With the following pages I'll try to bring close to you, interesting matters out of different Worlds of Sciences! My aim is here to open and enlarge horizons and bring even complicate matters to an easy understanding.


Deutsch
Herzlich Willkommen
Auf den folgenden Seiten möchte Ich weiteres interessantes aus der Welt der Wissenschaft näher bringen! Mein Streben dabei gilt dem Ziel, Horizonte zu erweitern und selbst komplizierte Sachverhalte verständlich darzulegen.
KLICK auf GELB im ticker für details
IN KEINEM FALL BIN ICH VERANTWORTLICH ZU MACHEN FÜR IRGENDWELCHE BESONDEREN, DIREKTEN, INDIREKTEN ODER SURROGATEN SCHÄDEN, NACHTEILE ODER VERLUSTE WELCHE WIE AUCH IMMER DURCH DIE NUTZUNG VON DATEN RESULTIEREN, WEDER DURCH VERTRAG, FAHRLÄSSIGKEIT ODER SONSTIGE SCHÄDLICHEN AKTIONEN, AUS ODER IN VERBINDUNG MIT DER NUTZUNG, DER LEISTUNG, ODER DEN VERFÜGBAREN INFORMATIONEN DIESER WEBSITE.

Um die vollständigen Nutzungs- und Haftungsbedingungen zu lesen, klicken Sie hier: